(((folkYEAH!))) Presents - Ramblin' Jack Elliott w/ special guest Jim Lewin
Thu Dec | 7 2023
Doors:

7:00 pm

/
Show:

8:00 pm
Moe's Alley ,
1535 Commercial Way, Santa Cruz, CA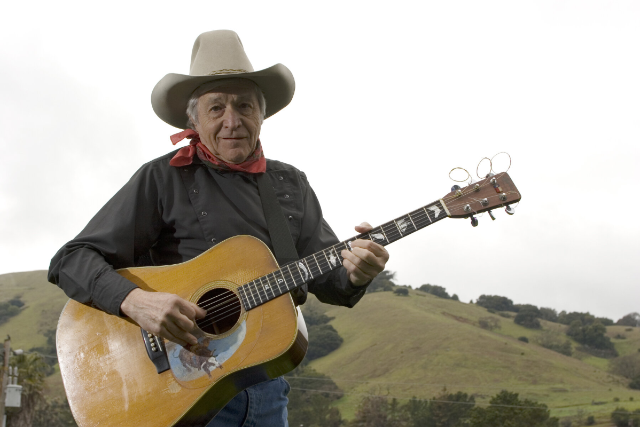 $30 advance / $35 day of show
About This Event
(((folkYEAH!))) presents folk, country legend Ramblin' Jack Elliott with special guest Jim Lewin.
Thursday, December 7th
Doors: 7pm / Show: 8pm
$30 in advance / $35 day of the show
21+
*Tickets on sale Friday, Sept. 22 at 10am PT*
RAMBLIN' JACK ELLIOTT
One of the last true links to the great folk traditions of this country, with over 40 albums under his belt, Ramblin' Jack Elliott is considered one of the country's legendary foundations of folk music. Long before every kid in America wanted to play guitar - before Elvis, Dylan, the Beatles or Led Zeppelin - Ramblin' Jack had picked it up and was passing it along. From Johnny Cash to Tom Waits, Beck to Bonnie Raitt, Ry Cooder to Bruce Springsteen, the Grateful Dead to The Rolling Stones, they all pay homage to Ramblin' Jack Elliott.
In the tradition of roving troubadours Jack has carried the seeds and pollens of story and song for decades from one place to another, from one generation to the next. They are timeless songs that outlast the musical trends of any given day. He wrote one of the first trucking songs-Cup of Coffee-recorded by Johnny Cash, championed the works of new singer-songwriters such as Bob Dylan, Kris Kristofferson and Tim Hardin; and became a founding member of Bob Dylan's Rolling Thunder Revue. He continued the life of the traveling troubadour influencing Jerry Jeff Walker, Guy Clark, Tom Russell, The Grateful Dead and countless others.
Ramblin' Jack is a two-time GRAMMY winner, National Medal Of Arts recipient, and in 2016, received a Folk Alliance Lifetime Achievement Award. Featured in the recent Rolling Thunder Revue film by Martin Scorcese and also in the early 2019 PBS release of the Woody Guthrie All Star Tribute Concert Center, Ramblin' Jack is an icon of American roots and folk music. A lover of storytelling and veteran troubadour style musician, on tour he is in his element and known for telling the tales gathered along his magnificent journey through the roots of Folk, Blues, Americana and Cowboy music and poetry. His permanently enshrined seat at Woodie Guthrie Center Theater in Tulsa, OK., sits among other greats, including Lead Belly, Cisco Houston and Pete Seeger.
JIM LEWIN
Jim Lewin is a guitarist, songwriter, and producer currently based in Santa Cruz, CA. He is stylistically eclectic with deep roots in bluegrass, country, and rock n' roll, and is known for his skillful playing on both acoustic and electric guitar. His band Edge of the West tours regularly throughout the Western US, Alaska and Hawaii. Their debut record was released in 2016 and a second record is in process. Jim is also known for his work with some of the more interesting renegade artists in Americana, bluegrass, jam band and country. He's a long time member of alt-country jamband Great American Taxi who has toured extensively and received much airplay and critical acclaim. He has also worked a lot with Todd Snider, Frank Wakefield, Lacy J. Dalton, Harmony Grits, and has collaborated occasionally on stage or in the studio with many rootsy favorites such as Peter Rowan, Billy Kreutzmann, Leftover Salmon, Flaco Jimenez, Gillian Welch and David Rawlings, Jeff Austin, Stu Allen and Jack Casady.

Please Note: This event is 21 and over. Any Ticket holder unable to present valid identification indicating that they are at least 21 years of age will not be admitted to this event, and will not be eligible for a refund.