(((folkYEAH!))) Presents - Acid Mothers Temple w/ Dead Leaf Echo + Mammatus
Thu Nov | 9 2023
Doors:

7:00 pm

/
Show:

8:00 pm
Moe's Alley ,
1535 Commercial Way, Santa Cruz, CA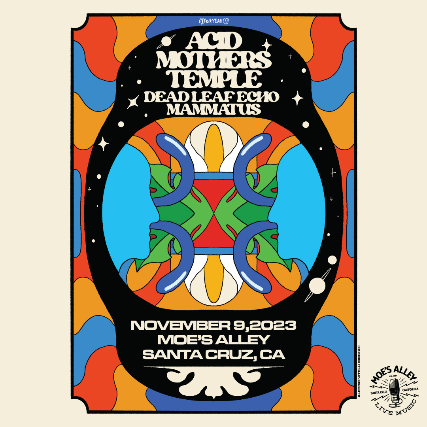 $20 advance / $25 day of show
About This Event
(((folkYEAH!))) Presents - Acid Mothers Temple with special guests Dead Leaf Echo + Mammatus!
Thursday, November 9th
Doors: 7pm / Show: 8pm
$20 in advance / $25 day of the show
21+
*Tickets go on sale Friday, July 28 at 10am PST*
ACID MOTHERS TEMPLE
Formed in 1995 by Makoto Kawabata at the same time as the Acid Mothers Temple Soul Collective. The group released its debut album in 1997 on PSF Records (Japan), and it was selected as one of the year's best albums in the The Wire magazine (UK). In 1998 the group played their first tours of the US and Europe. Since then the group has released a huge number of albums on labels from many different countries. As of 2017, the group has released around 80 albums. Every year since 1998, they have toured extensively in the US and Europe, and more recently have started performing around Asia and in Japan too. The group has performed in collaboration with many musicians including psychedelic originators Gong and Guru Guru, Simeon (Silver Apples), Nik Turner (Hawkwind), and the Occitanian trad sinder Rosina de Peira. Japanese collaborators have included Afrirampo, Tatsuya Yoshida (Ruins), Maso Yamazaki (Masonna), Seiichi Yamamoto (Boredoms), Jun Kuriyama (The Ox), and many others.
To begin with the group had a floating line-up with contributions from many members of the AMT Soul Collective. But as tours became more frequent, the group began to coalesce around a core touring line-up. Other bands were created with Acid Mothers Temple as part of their name (AMT & The Cosmic Inferno, AMT SWR, AMT & The Space Paranoid, AMT & Infinity Rising Zero, Acid Mothers Gong, Acid Mothers Guru Guru, Acid Moon Temple, etc.), but AMT & The Melting Paraiso U.F.O. has continued to function as the mothership and main lineage for all our activities.
In 2016, 21 years since the group's founding, there was a major shift in the line-up and "Next Generation" was added to the name. We now view the first 20 years as chapter one in our story, and we are now turning the page to start chapter two.
The group played more than 100 shows in each year, toured in Europe, North America, South America, Oceania and Asia, also Japan. They also played many festivals (Glastonbury Festival in UK, Levitation in US and France, Rock In Opposition in France, Standon Calling in UK, Kuala Lumpur Experimental Film, Video & Music Festival in Malaysia, LUC fest 貴人散步音樂節 in Taiwan, etc).
During the pandemic, they launched their official Bandcamp, have released more than 60 albums (including many unreleased materials), and have toured in Japan in each year. And they played the streaming festival "Levitation Sessions". They organized "Acid Mothers Olympic 2021" against "Tokyo Olympics 2021", they originated and played a new style of "music sports".
DEAD LEAF ECHO
Dead Leaf Echo are pleased to announce their third LP The Mercy of Women. Influenced by a pandemic-induced recording process that stretched over several years, Mercy shows DLE exploring sounds that are both more intense and accessible than ever before. Long-know for their unique mixture of shoegaze and guitar-driven pop, The Mercy of Women will appeal to old and new fans alike.
Please Note: This event is 21 and over. Any Ticket holder unable to present valid identification indicating that they are at least 21 years of age will not be admitted to this event, and will not be eligible for a refund.