Moe's Alley Presents: Willi Carlisle w/ special guest Rachel Baiman
Sun Oct | 15 2023
Doors:

7:00 pm

/
Show:

8:00 pm
Moe's Alley ,
1535 Commercial Way, Santa Cruz, CA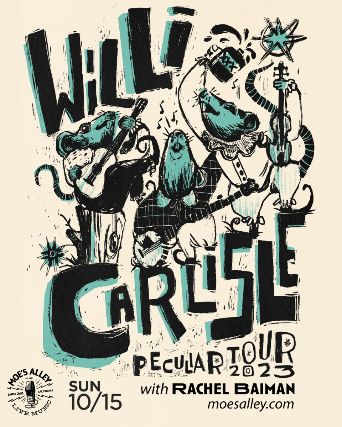 $15 advance / $20 day of show
About This Event
Moe's Alley presents Willi Carlisle with special guest Rachel Baiman.
Sunday, October 15th
Doors: 7pm / Show: 8pm
$15 in advance / $20 day of the show
21+
WILLI CARLISLE
WILLI CARLISLE is a poet and a folk singer for the people, but his extraordinary gift for turning a phrase isn't about high falutin' pontificatin'; it's about looking out for one another and connecting through our shared human condition. Born and raised on the Midwestern plains, Carlisle is a product of the punk to folk music pipeline that's long fueled frustrated young men looking to resist. After falling for the rich ballads and tunes of the Ozarks, where he now lives, he began examining the full spectrum of American musical history. This insatiable stylistic diversity is obvious in his wildly raucous live performances, where songs range from sardonic trucker-ballads like "Vanlife" to the heartbreaking queer waltz "Life on the Fence," to an existential talkin' blues about a panic attack in Walmart's aisle five. With guitar, fiddle, button-box, banjo, harmonicas, rhythm-bones, and Willi's booming baritone, this is bonafide populist folk music in the tradition of cowboys, frontier fiddlers, and tall-tale tellers. Carlisle recognizes that the only thing holding us back from greatness is each other. With a quick wit and big sing-alongs, these folksongs bring us a step closer to breaking down our divides.
RACHEL BAIMAN
On Common Nation of Sorrow, Baiman's third LP, she tells stories of American capitalism, and the individual and communal devastation it manifests. "The reality is that the vastmajority of us are being taken advantage of by the same brutal economic and political systems. Maybe that shared oppression is a place in which we can meet and fightback", she explains.
Common Nation of Sorrow opens with "Some Strange Notion", an anthemic song from which the album title is drawn. Featuring the distinct outlaw country drumming and vocals of Miles Miller (Sturgill Simpson/Tyler Childers), contrasted with a phased-out string section and seemingly socialist rallying cry, the track pulls together the many elements of the record in a way that eerily reflects its lyrical content; "But now, some strange notion has taken ahold of us "It's the common nation of sorrow, hear the boots march through the dust/ when so much pain is intertwined, there are none who can tear it down/ you cannot bury those already resting beneath the ground," sings Baiman. "This song was deeply inspired by the idea of generational activism", she says. "The realization that sometimes it takes several generations of work to see any change or progress, and the tenacity and determination which that idea requires."
Please Note: This event is 21 and over. Any Ticket holder unable to present valid identification indicating that they are at least 21 years of age will not be admitted to this event, and will not be eligible for a refund.