(((folkYEAH!))) Presents: FANTASTIC NEGRITO with special guests Gina René & Million 7
Sun May | 7 2023
Doors:

7:00 pm

/
Show:

8:00 pm
Moe's Alley ,
1535 Commercial Way, Santa Cruz, CA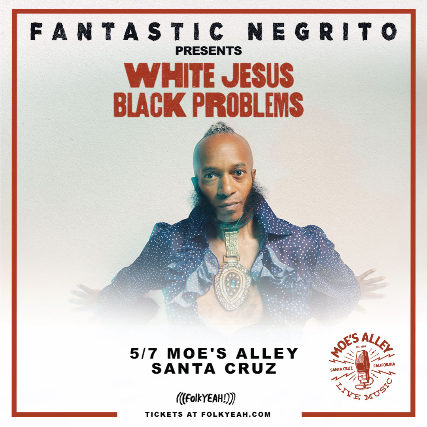 $26 advance / $30 day of show
About This Event
(((folkYEAH!))) presents Fantastic Negrito!

Sunday, May 7th
Doors: 7pm / Show: 8pm
$26 in advance / $30 day of the show
21+

Tix on sale at 12noon, April 12th.

FANTASTIC NEGRITO
Part love story, part historical excavation, Fantastic Negrito's extraordinary new album, White Jesus Black Problems, is an exhilarating ode to the power of family and theenduring resilience of our shared humanity. Inspired by the illegal, interracial romance of his seventh generation grandparents—a white indentured servantand an enslaved Black man—in 1750s Virginia, the collection is bold and thought provoking, grappling with racism, capitalism, and the very meaning of freedom itself, all without ever losing sight of the desire and determination at the heart of the tale. While each track herecould stand easily on its own, as could the companion film Negrito shot to accompany the music, stepping back to absorb the collection in its full audio and visual context yields a far more transcendent and immersive sensory experience, one that challenges our notions of who we are, where we come from, and, perhaps most importantly, where we're headed. Born Xavier Amin Dphrepaulezz, by now much has been made of Negrito's own uniquestory—his early years growing up in an orthodox Muslim household, the doomed major label deal that turned him off of the music industry altogether, the near-fatal car cash that permanently damaged his guitar playing hand—as well as the remarkable redemption arc that began in 2015, when he won the first ever NPR Tiny Desk Contest. In the years that followed, Negrito would go on to take home three consecutive GRAMMY Awards for Best Contemporary Blues Album, tour with everyone from Sturgill Simpson to Chris Cornell, collaborate in the studio with the likes of Sting and E-40, launch his own Storefront Records label, perform at Lollapalooza, Glastonbury, Newport Folk, Bryon Bay Blues, and nearly every other major festival on the map, and found the Revolution Plantation, an urban farm aimed at youth education and empowerment. But the events on White Jesus Black Problems pre-date all of that by more than two centuries, and the story here isn't so much Negrito's as it is America's. "At the end of the day, this is a record about love," says Negrito. "There's a feeling outthere right now that we can't get anything done because we're so polarized, so entrenched in our ideologies and unmoved by facts or logic, but I wanted to share this story because I think it smashes that narrative to pieces. Despite the horrific challenges these two faced, they found a way to be together, and the ripple effects of that act of love have been reverberating for hundreds of years. "Ultimately, that's what White Jesus Black Problemsis all about. "I stand on the shoulders of my ancestors, both black and white, who showed me that anything is possible," says Negrito. "There was a lot of ugliness in their story, but there was a lot of beauty, too, because in the end, they won. Love won."

Please Note: This event is 21 and over. Any Ticket holder unable to present valid identification indicating that they are at least 21 years of age will not be admitted to this event, and will not be eligible for a refund.