Moe's Alley Presents a Double Bill with SUPERBLUME & JIVE MACHINE
Fri May | 12 2023
Doors:

8:00 pm

/
Show:

9:00 pm
Moe's Alley ,
1535 Commercial Way, Santa Cruz, CA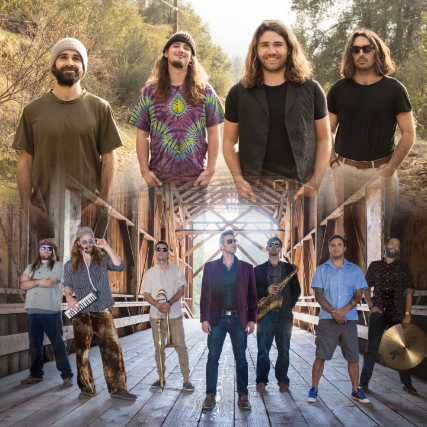 $18 advance / $23 day of show
About This Event
Moe's Alley presents a super funky double bill with two of the hottest local bands - SUPERBLUME and JIVE MACHINE!
Saturday, May 12th
Doors: 8pm / Show: 9pm
$18 in advance / $23 day of the show
21+
SUPERBLUME
SUPERBLUME is a funky, booty-shanking jam band blossoming in Santa Cruz, California. With desire to inspire a world where everybody is free to be themselves, Superblume creates a live atmosphere of love, togetherness, and self-expression.
Drawing inspiration from jam band giants and blues legends, Superblume's music weaves a wide range of improvised soundscapes through funky original compositions. Freely flowing from blissful rock n' roll to dark psychedelia to disco-funk and all spaces in between, Superblume aims to explore uncharted musical territory with every live performance.
The seeds of Superblume were planted in 2019 when guitarist Nate Smith and drummer Taylor Brougham met at a jam session of Santa Cruz musicians. The pair immediately connected as friends and musical accomplices, as they shared the desire to create something new, explore, and bring people together. They began writing song after song, and were soon joined by the shredder guitarist Jesse Glick, and the groove master bassist Tommy Ohlman. In the dark days of the COVID-19 Pandemic, the seeds started to sprout. With no live music being allowed, the band was given the gift of time to focus on songwriting and jamming. As the restrictions eased, Superblume was ready to show their colors. They hit the ground running in 2021, playing over 20 rocking shows during the summer, including an awesome dance party for sold out crowd at Moes Alley! In their short time as a band, Superblume has already developed a loyal local following, consistently drawing 200+ people to their shows. Now they are ready to blossom and share their love and music all over the country.

JIVE MACHINE
Jive Machine habitually bends the rules, blurs the lines, and stretches musical boundaries. Their music takes listeners on a sonic rollercoaster that fuses elements of old-school funk, progressive rock, blues, and soul. Throughout their set, you can hear diverse influences such as Tower Of Power, Jimi Hendrix and Trombone Shorty. Jive Machine is uniquely able to incorporate new ideas while paying homage to the great artists who came before them. The band is defined by a strong rhythmic foundation, infectious melodies, tasteful lead guitar virtuosity, and crisp horn lines. Recently, Jive Machine has become notorious for their "pop-up" performances in downtown Santa Cruz. These events always erupt into a massive dance party, and within moments, you'll see It's impossible not to be captivated by the talent and contagious energy of their live shows!
Please Note: This event is 21 and over. Any Ticket holder unable to present valid identification indicating that they are at least 21 years of age will not be admitted to this event, and will not be eligible for a refund.