Moe's Alley Presents: Trish Toledo w/ Bon Bon Vivant - Sunday Matinee Show Added!
Sun Jun | 4 2023
Doors:

2:00 pm

/
Show:

3:00 pm
Moe's Alley ,
1535 Commercial Way, Santa Cruz, CA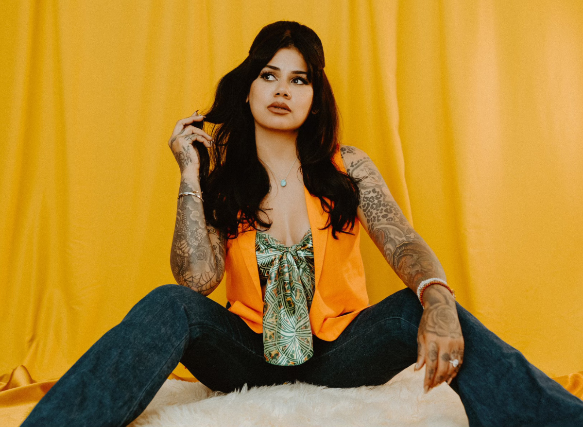 $25 advance / $30 day of show
About This Event
Due to popular demand, we're adding a second Trish Toledo show! This is a special Sunday afternoon matinee show with special guests Bon Bon Vivant!
Sunday, June 4th
Doors: 2pm / Show: 3pm
$25 in advance / $30 day of the show
21+
TRISH TOLEDO
An independent artist with an old school sound – meet Trish Toledo, a musical time
traveler who reinvests brilliant pop and soul ballads from the early Sixties with modern
fire and fortitude.
From Carson, California, a community south of Los Angeles, Trish was born into an
Ecuadorian-Guatemalan family with much older siblings. Their musical tastes – plus the
influence of her father, who was a musician – provided her with access to music that
existed long before her time. Although the first music she sang was cumbias and
ballads, she discovered that it was the timeless pop and soul ballads that she felt most
connected to.
While her father's musical influences permeated her childhood, it was his "musician's
life" that accounted for his absence from the family. Subsequently, when she became a
teen parent herself, Trish put her own musical aspirations on hold in order to offer
undivided attention as a mother. In May 2017, now old enough to realize his mother's
formidable vocal abilities, it was her now 15-year son that noted the void in his mom's
life, as he encouraged her to reestablish her musical journey.
Exploring a classic catalog of material, Trish selects songs to record based on how the
themes most faithfully mirror her life experiences. "What I have gone through, or am
going through," she says.
Now writing and recording her original music from her home in Long beach , CA with
her band , Trish is getting ready to release a full length album for all her loving and
devoted fans.
Trish Toledo does what she does best: sings, performs, and connects a historic line
between the music of an earlier era, and the audiences of today. "People are so happy
that I'm reviving this music," Trish concludes. " Bringing it back – so that a new
generation gets to hear this."
Bon Bon Vivant
Established in New Orleans, LA, Bon Bon Vivant electrifies audiences across the country with their signature sound, blending indie rock, New Orleans trad, dark ballads and up-tempo dance. BBV's original music pays homage to the bawdy New Orleans sound while singing its life affirming, tragic, hopeful and honest songs, leaving a meaningful mark on the listener. This genre bending bandis as fierce as they are heartbreaking, as they celebrate life in minor keys!
Bon Bon Vivant is one of the most highlighted acts in the New Orleans music scene today. Awarded 'Best Emerging Artist' by Off Beat Magazine, Bon Bon Vivant spread the gospel of decadence and revelry with their infectious sound and performances. Bon Bon Vivant has been featured in the New Orleans Film Festival, French Quarter Fest, Jazz Fest, Chenango Blues Fest, Teal Tie Festival and many more across the country.
Please Note: This event is 21 and over. Any Ticket holder unable to present valid identification indicating that they are at least 21 years of age will not be admitted to this event, and will not be eligible for a refund.