HICKOIDS w/ Enemy of My Enemy plus Critical Response
Wed Feb | 8 2023
Doors:

7:00 pm

/
Show:

8:00 pm
Moe's Alley ,
1535 Commercial Way, Santa Cruz, CA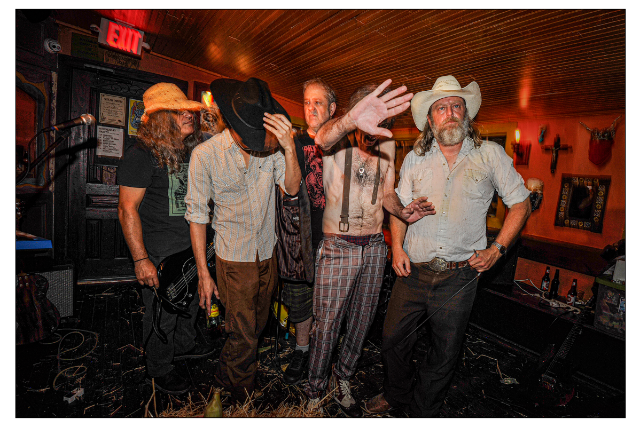 $12 advance / $15 day of show
About This Event
Moe's Alley presents Austin cowpunk legends the Hickoids who are blasting out of the pandemic to hit the West Coast for the first time in years!

Wednesday, Feb. 8th
Doors: 7pm / Show: 8pm
$12 in advance / $15 day of the show
21+

HICKOIDS
The Hickoids are a long running Central Texas band that trace their roots to the early
80s Austin punk scene that spawned greats such as Scratch Acid, The Offenders and
Butthole Surfers. From their cowpunk beginnings the band has morphed into something
that contemporary listeners will recognize as "roadhouse punk." The band combines a
flair for showmanship, a never lost irreverent attitude and musical adeptness that allows
them to fold a lot of different Southern American roots styles into a sound that is
uniquely their own. Hickoids are equally at home in a blues club, a country bar or the
punkest of punk dives and since reforming in the mid/late 2000s the band has played
over 800 shows in at least half the 50 U.S. states, Canada and ten European countries.
They've shared the stage with everyone form Nine Inch Nails to The Old 97s, The
Flaming Lips to The Flamin' Groovies, Roky Erickson to Lucinda Williams and a whole
lot of folks in between.

Their most recent single 'Almost Nearly Nancy', a yarn of unrequited love on the edge of
an apocalypse, is a bouncy two and one-half minute slice of protopunk that has western
edge and a classic feel. The tune was recorded back in 2019 with producer Mike
Mariconda at Sol de Sant Studio in Barcelona and finishing touches were recently
applied in Texas. It has quickly become the band's most streamed song to date on
Spotify. Critic Tim Stegall of the Austin Chronicle says: "Austin's kings of punktry &
western drop an immaculate raunch bomb on their way outta town, escaping the Delta
variant-fueled Stage 5 pall for some mid-South touring. 'Almost Nearly Nancy' snarls
through layers of post-Keef guitar grind and prime wah-pedal abuse, as Jeff Smith lets
loose his best lonesome polecat strut: "I've seen your face airbrushed on the side of a
van/ With the words below, 'She'll destroy a man'/ I believe you can." This single's
everything the Rolling Stones haven't been since "Exile on Main St.', and all Primal
Scream's wanted to be their whole career – best Hickoids record ever!"

ENEMY OF MY ENEMY
High-energy punk and rock n' roll band from Santa Cruz, CA. Pretty much as simple as that. Catchy music that blends some of the speed and grit of punk rock with the power of rock n' roll. Featuring members of Fury 66, Dead Set, Six Steps to Hell, Hate Brigade, Culo a Boca and Vultures at Arms Reach.

CRITICAL RESPONSE
A punk rock poetess who's equal parts Iggy Pop and Poly Styrene. A towering bassist whose boom is bigger than J.J. Burnel and Lemmy combined. A punk blues pulpiteer whose holy trinity is Strummer, Ramone, and Thunders. A mysterious stickman with a hardcore soul and a trash can beat. Put 'em together and what do you get? Critical Response. Sound the alarm!

Please Note: This event is 21 and over. Any Ticket holder unable to present valid identification indicating that they are at least 21 years of age will not be admitted to this event, and will not be eligible for a refund.