Moe's Alley Presents: THE MEDITATIONS w/ Highest Intention + DJ Spleece
Thu Jan | 26 2023
Doors:

8:00 pm

/
Show:

9:00 pm
Moe's Alley ,
1535 Commercial Way, Santa Cruz, CA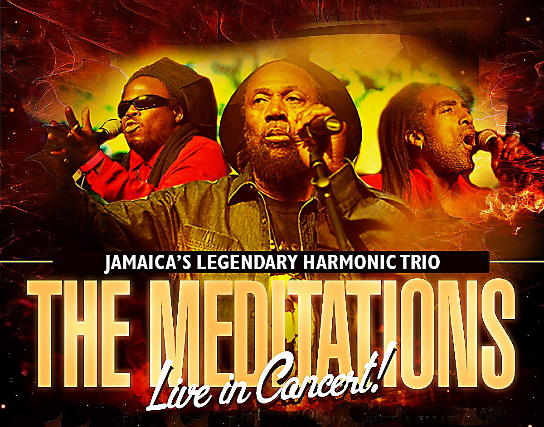 $20 advance / $25 day of show
About This Event
Moe's Alley proudly presents the legendary Jamaican harmony trio -
The Meditations -
with special guests Highest Intention and DJ Spleece!
Doors: 8pm
Show: 9pm
$20 in advance / $25 day of the show
21+
The Meditations
Ansel Cridland, Danny Clarke and Winston Watson collectively known as The Meditations, recorded their first hit single Woman is Like a Shadow in 1974 at Channel One Recording Studio. The group made it's mark and sealed their place as reggae legends withthe release of the first two albums Message From The Meditations and Wake up produced by Dobby Dobson. Soon after came the third album Guidance produced by Ansel Cridland.
Known the world over as Jamaica's legendary harmony trio, The Meditations captured the hearts of reggae fans around the world. This led to collaborations with Lee Scratch Perry. Scratch, who produced for Bob Marley and the Wailers, asked them to do back up vocals for Punky Reggae Party, featuring Bob on led vocals. Bob Marley was so pleased with their harmony that he went in search for the group to do more back up vocals for him. It is said by many that "The Meditation is Bob Marley's favorite group," which led to Bob requesting harmony and background vocals on songs like Rastaman Live Up and Blackman Redemption. The Meditations harmonic vocals can be heard on some of your favorite track such as, Bongo Man Youths Them A Cry by Jimmy Cliffs, Mr. Cop by Gregory Isaacs, to name a few.
In 1983 Linval Thompson produced The Meditations fourth album No More Friends. On this album all the lead vocals were sung by Ansel Cridland. Meanwhile Danny Clarke and Winston Watson later released For The Good Of Man. After some time separated Ansel begin to put the group back together with the release of Return Of The Meditations produced by Ansel in 1993 on Heartbeat record label.
Ansel followed up producing and releasing Ghetto Knowledge on the Easy Star label in 1999, then Stand In Love on his own label Meditations Music in 2004. As of late he as gone on to collaborate with yet another great Philip Smart for his latest album Dangerous Society, which was released jointly by Meditations Music and Philip Smart in 2011. Ansel is a dedicated musician writing, producing and releasing albums, and still touring with the addition of DaddyLion Chandell and Toussaint Webb on harmony.
The Meditations just released a new album "The Meditations & Friends - Smile Again" in September 2021.
Please Note: This event is 21 and over. Any Ticket holder unable to present valid identification indicating that they are at least 21 years of age will not be admitted to this event, and will not be eligible for a refund.