Western Wednesday #47: Hank & Ella with The Fine Country Band + Nashville Honeymoon
Wed Oct | 26 2022
Doors:

7:00 pm

/
Show:

8:00 pm
Moe's Alley ,
1535 Commercial Way, Santa Cruz, CA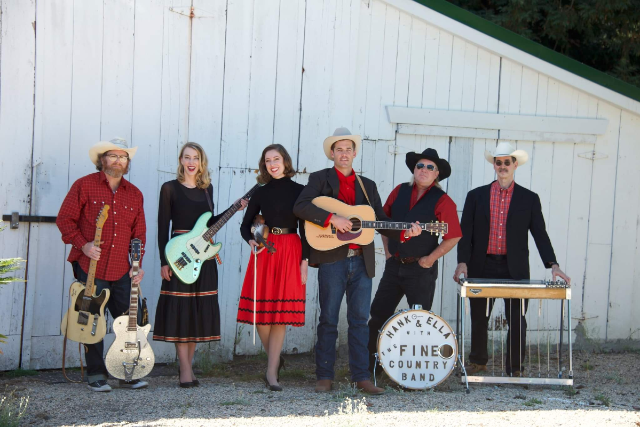 $15 / $20
About This Event
Hey y'all! Western Wednesday #47 is comin' and we got a hot one!
Hank & Ella with The Fine Country Band
plus Nashville Honeymoon!
Wednesday, Oct. 26th
Doors: 7pm
Two-Step Lessons: 7:30pm
Show: 8pm
HANK & ELLA with THE FINE COUNTRY BAND
A husband and wife duo who are well versed in vintage country, traditional Americana and all sorts of variations of roots music, Hank and Ella bring The Fine Country Band along with them for a retro and modern effort of 13 originals on this exceptional album.
"Down By The Waterline" starts the listen with Hank's cautious acoustic guitar and rugged vocals that complement Ella's pretty pipes as Uncle Dave Magram's glowing pedal steel adds much to the California country sounds, and "Lucky When It Rains" follows with Ella's fiddle acrobatics making an impression as fluid, melodic country rock unfolds.
Elsewhere, "The Good Old Days Are Now" injects some honky tonk fun into the playful setting, while "Riding On Easy" benefits from Marty Carpenter's deft drumming in the lush duet. "Good At Being Lonely", one of the album's best, then displays much beauty amid a gentle, reflective climate that tips its hat to classic country sensibilities that we could never tire of.
Near the end, "Double Vision" will get headed to the dance floor with its sing-along quality and barnyard flavor, and "It's Only Money" exits the listen frisky, highly memorable and includes some bluegrass nods in their irresistible formula.
An excellent outing in the area of rural anthems and timeless country dynamics, Hank & Ella and company remind us that Bakersfield was just as important as Nashville in paving the way for countless bands and records, past and present, and few are interpreting that sound as well as these artists.
NASHVILLE HONEYMOON
Led by songwriting duo Hank Maninger and Lynne Maes, whose shared love of country music led to a creative partnership onstage and off, Nashville Honeymoon plays original tunes built on country, rockabilly, and honkytonk traditions. Lynne and Hank, along with bandmates Tim Wagar and Leor Beary, write songs that honor traditional country music while deliberately pushing its boundaries. Hank's driving lead guitar, perfectly balanced by Lynne's true-blue vocals, are - as the old song goes - the right combination. Add tight vocal harmonies, a rhythm section that can play a country shuffle every bit as well as a country rock anthem, and you've got a dynamic and heartfelt show every time they hit the stage.
Please Note: This event is 21 and over. Any Ticket holder unable to present valid identification indicating that they are at least 21 years of age will not be admitted to this event, and will not be eligible for a refund.