Mike Dillon and Punkadelick Featuring Nikki Glaspie and Brian Haas
Thu Dec | 1 2022
Doors:

7:00 pm

/
Show:

8:00 pm
Moe's Alley ,
1535 Commercial Way, Santa Cruz, CA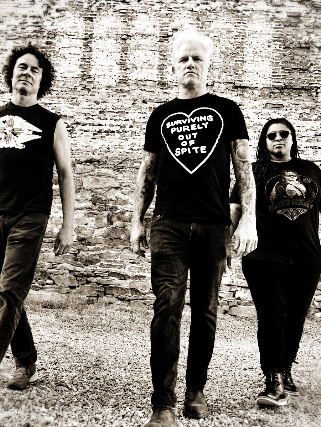 $17 / $22
About This Event
Moe's Alley proudly presents percussionist
Mike Dillon's Punkadelick feat. Nikki Glaspie (Beyoncé) and Brian Haas (FJO)
.
Doors: 7 pm
Show: 8 pm
$17 / $22
21+
Mike Dillon & Punkadelick
A trio featuring Mike Dillon (Ricki Lee Jones, Ani DiFranco, Les Claypool) on vibraphone, marimba, Prophet 6, congas, and bongos, Brian Haas (Jacob Fred Jazz Odyssey) on Fender Rhodes, piano, bass Moog and melodica and Nikki Glaspie (Beyonce) on drums, cymbals and vocals, Punkadelick is the unified vision of six hands creating a world that often sounds like the work of an ensemble three times the size.
During 2020 and 2021, while many music venues were still shuttered, the group began touring, sweating their way through cuts Dillon and Haas had composed during quarantine writing sessions. Locking in on stage, it quickly became clear the band was functioning at a level that made the hair on their arms stand at attention—even for three live music veterans accustomed to life on the road.
"It became obvious to let this become a collaboration," Dillon says. "This is really something all three of us are doing because we have so much love for one another and a love for the music that we started creating."
"There's only three of us, but we move together like a big, nasty school of fish," Haas adds, laughing.
During the tail end of a 2021 tour, the band booked time to record with engineer—and functioning fourth band member—Chad Meise, and Inflorescence sprouted. Opener "Desert Monsoon," sets the stage with a spiritual-jazz intro of organ, vibraphone, percussion and wordless vocal coos before crackling to life as a swaggering funk strut. The title track, and "Pandas," dig into thick dub textures built around Glaspie's drumming and Haas's subwoofer-straining bass synths.
"We're students of the titans of music. We grew up listening to punk and rock 'n' roll but we also love instrumental music—particularly the forefathers of Black American Music. In our minds, Led Zeppelin and Milt Jackson, Parliament-Funkadelic and The Minutemen, The Bad Brains and Frank Zappa are interconnected influences," explains Dillon.
"We try to challenge our listeners," Dillon says. "We're touching a nerve with people who maybe don't want to see the same songs done in the same variations all night long," continues Dillon. "Part of my mission is taking these instruments that are primarily designed for the orchestral or jazz world and taking them to the rock world, the club world, running them through pedals and effects. We're not afraid to be soft, or to surprise. That's what we all do in this band — get beyond our own conceptions of what music is supposed to be."
"We are so blessed and lucky to do what we do for a living — it's apparent in the music," Glaspie chimes in. "It doesn't matter how the day is going, but we get to the club, set up and crush the gig, all the other stuff doesn't matter. We're likeminded individuals who love life, love people and want to spread happiness."
Mike Dillon & Punkadelick's Inflorescence is out Jan. 27, 2023 via independent record label, Royal Potato Family.
Please Note: This event is 21 and over. Any Ticket holder unable to present valid identification indicating that they are at least 21 years of age will not be admitted to this event, and will not be eligible for a refund.