THE BROTHERS COMATOSE (Night 3 of 3) with The Good Bad
Sat Aug | 13 2022
Doors:

8:00 pm

/
Show:

9:00 pm
Moe's Alley ,
1535 Commercial Way, Santa Cruz, CA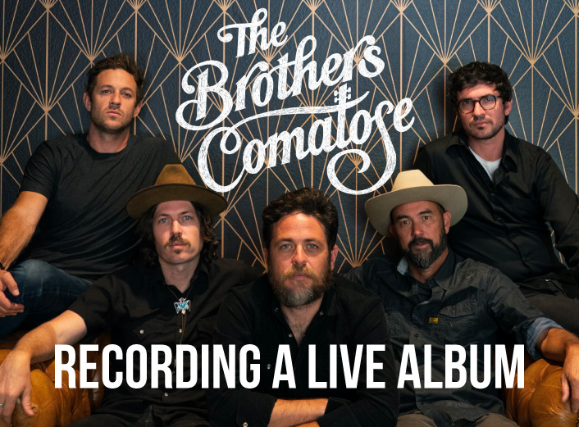 $30 / $35
About This Event
Moe's Alley proudly presents the final night of three bangers with
The Brother's Comatose
featuring
The Good Bad!
Come celebrate closing out an epic three-day run at Moe's with us!
Doors: 8 pm
Show: 9 pm
$30 / $35
21+

THE BROTHERS COMATOSE
The Brothers Comatose is a five-piece string band from California who make songs deeply rooted in this country's past — traditional bluegrass, country and rock 'n' roll — with a contemporary spirit of experimentation, and an eye toward expanding Americana's future.
Founded in 2009 by Petaluma-born brothers Ben and Alex Morrison (vocals, guitar and banjo) and their classically trained friend Philip Brezina (violin), the band has built an international following based on their warm, resonant songwriting, rowdy live shows, and an impressively relentless touring schedule—which has taken them to Australia and China, as well as all over North America. Their fan base functions as family, gathering wherever the band plays, whether it's at a sold-out show at the Fillmore or at their very own music festival, Comatopia, in the Sierra foothills.
When It All Falls Apart, out in the spring of 2022 on Swamp Jam Records, is the sixth full-length from the Brothers Comatose. It finds the band at a crossroads: in the midst of lineup changes, the pandemic shut down the music industry, and the band was forced to find ways to connect with fans that didn't involve their famously engaging live shows.
The result is a record about unexpected endings and fresh starts. By turns poignant, painful, passionate and joyful — singer Ben Morrison also became a father during the pandemic, and got to spend time at home with his wife and new daughter — these songs also capture the thrill of the band physically reuniting for the first time after months apart.
Following the release of When It All Falls Apart, the band is looking forward to touring and reconnecting with fans in person, as well as introducing new members Steve Height and Greg Fleischut, experimenting with different forms of media and more unexpected collaborators — and continuing to explore the possibilities that come with not playing 120 shows a year.
"We didn't know what we were going to do moving forward," says the songwriter, of the pandemic as a reset. "But it turns out, when it all falls apart, you figure your shit out and you find a new path."

THE GOOD BAD
Originally from San Francisco, California, The Good Bad have remained a steadfast part of the West Coast bluegrass scene since their initial inception in 2010. Delivering a high octane, polished performance, The Good Bad focus on tight, well-crafted original music and progressive interpretations of traditional bluegrass standards. The Good Bad have shared the stage with favorites like Della Mae, The Brothers Comatose, The Lil' Smokies, Split Lip Rayfield and Front Country while performing at notable festivals such as Winter Wondergrass. The groups forthcoming album, "More at Home," blends poignant original songs and tight harmonies steeped in Americana, all while remaining freshly unmoored from bluegrass orthodoxy. The Good Bad are Aaron Lanes (mandolin, guitar, vocals) Peter Domenici (banjo, vocals) and Tom Conneely (guitar, vocals.)
Please Note: This event is 21 and over. Any Ticket holder unable to present valid identification indicating that they are at least 21 years of age will not be admitted to this event, and will not be eligible for a refund.