THE BROTHERS COMATOSE (Night 2 of 3) with The Sam Chase
Fri Aug | 12 2022
Doors:

8:00 pm

/
Show:

9:00 pm
Moe's Alley ,
1535 Commercial Way, Santa Cruz, CA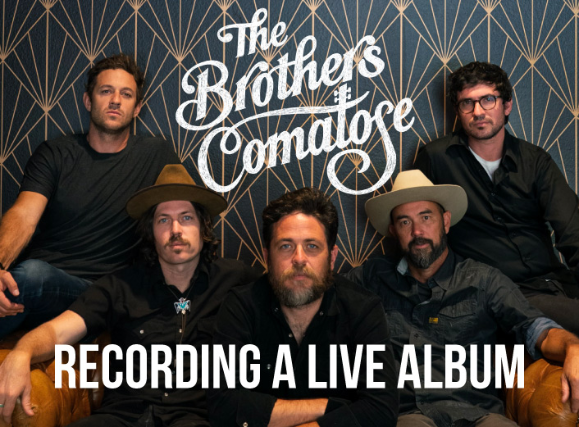 $30 / $35
About This Event
Moe's Alley proudly presents night two of three with
The Brother's Comatose
featuring
The Sam Chase!
Doors: 8 pm
Show: 9 pm
$30 / $35
21+
THE BROTHERS COMATOSE
The Brothers Comatose is a five-piece string band from California who make songs deeply rooted in this country's past — traditional bluegrass, country and rock 'n' roll — with a contemporary spirit of experimentation, and an eye toward expanding Americana's future.
Founded in 2009 by Petaluma-born brothers Ben and Alex Morrison (vocals, guitar and banjo) and their classically trained friend Philip Brezina (violin), the band has built an international following based on their warm, resonant songwriting, rowdy live shows, and an impressively relentless touring schedule.
When It All Falls Apart, out in the spring of 2022 on Swamp Jam Records, is the sixth full-length from the Brothers Comatose. It finds the band at a crossroads: in the midst of lineup changes, the pandemic shut down the music industry, and the band was forced to find ways to connect with fans that didn't involve their famously engaging live shows.
The result is a record about unexpected endings and fresh starts. By turns poignant, painful, passionate and joyful — singer Ben Morrison also became a father during the pandemic, and got to spend time at home with his wife and new daughter — these songs also capture the thrill of the band physically reuniting for the first time after months apart.
Following the release of When It All Falls Apart, the band is looking forward to touring and reconnecting with fans in person, as well as introducing new members Steve Height and Greg Fleischut, experimenting with different forms of media and more unexpected collaborators — and continuing to explore the possibilities that come with not playing 120 shows a year.
"We didn't know what we were going to do moving forward," says the songwriter, of the pandemic as a reset. "But it turns out, when it all falls apart, you figure your shit out and you find a new path."
THE SAM CHASE
The Sam Chase & The Untraditional hails from San Francisco, California. This juggernaut of a band blends rock n roll with folk music while maintaining the sensibilities and attitudes that come from growing up on a healthy diet of punk rock.
​The leader of the band is The Sam Chase himself, a natural storyteller with a voice that sounds as if it has weathered many an epic tale. With boot-stomping orchestration and lyrics that have been immortalized on the tattooed skin of their fans, The Sam Chase & The Untraditional doesn't mess around.
These are the warriors we need in these troubled times.

. . . . .

"I love Sam Chase. He's got mischievous eyes and a booming voice. He's a clever songsmith and a dazzling performer. He was born in the punk scene and raised on the back of Merle Haggard and John Prine and was given dollops of Woody Guthrie in his oatmeal. He's sensitive and gruff at the same time in equal doses. I call him sensigruff. His voice is so powerful he could've cut through the noise on the floor of The New York Stock Exchange in the height of the 80s. Everyone would've just shut their pie-holes and listened to what the man had to say. Sam Chase is an American original and a welcome card carrying member of the united family of songwriting troubadours. God bless you Sam Chase."

​ - Steve Poltz
Please Note: This event is 21 and over. Any Ticket holder unable to present valid identification indicating that they are at least 21 years of age will not be admitted to this event, and will not be eligible for a refund.