JAIME WYATT w/ special guest Kristina Murray
Sun Jul | 10 2022
Doors:

7:00 pm

/
Show:

8:00 pm
Moe's Alley ,
1535 Commercial Way, Santa Cruz, CA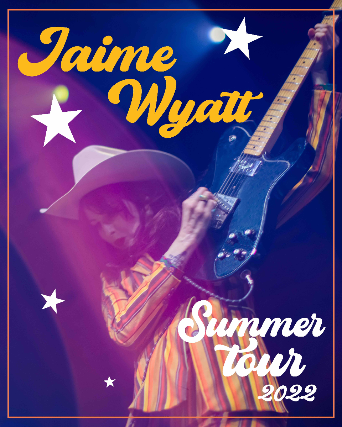 $18 / $22
About This Event
Moe's Alley is proud to present the self-proclaimed "Queer Queen of Outlaw Country",
Jaime Wyatt!
Her new record,
Neon Cross,
was produced by none other than Shooter Jennings and is out now!
Doors; 7pm / Show: 8pm
$18 / $22
21+
JAIME WYATT
If there's one lesson to be gleaned from Neon Cross, the newest release from singer, songwriter and guitarist Jaime Wyatt, it's that life, in all its inherent messiness, goes on. And through it all—good times and bad, triumph and trouble, dreaming and desperation—Wyatt continues, to borrow the title of one of her new songs, just L I V I N.
To be sure, there's a whole lot of livin' in the 11 tracks on Neon Cross, from the whisky-soaked honky tonks outlined in the heated and hungry title track, where Wyatt, with "pitiful perfume, dark glasses, gold liquor and alligator shoes," plies her trade from the stage, to the mountains of pain, regret and loss baked into the slow-burning soul groove of "By Your Side," which the artist says she wrote "after my dad died and my best friend overdosed, and I wasn't able to show up for either of them because I was loaded," to the stark solitude of "Sweet Mess," where Wyatt, in the throes of a crumbling relationship, opines that "just like all the rest, I'll be forgotten."
"I tried not to have any filter with these songs," Wyatt says about her open-book approach to writing. "Because I'll be honest—it feels like I'm gonna die if I don't tell people how I feel and who I am." She pauses and lets out a slight laugh. "It sounds so dramatic, but that's the truth."

KRISTINA MURRAY
Kristina currently lives in Nashville, where she is active in the underground independent country and Americana music scene that pays homage to the jangle of an acoustic guitar, the sting of a Telecaster, tight harmonies and a walking bassline—the sweat and grime and heartache of country legends—rather than, say, the synth and drum machine of contemporary pop country. One listen and you'll believe every word that drips from her honky-tonk hewn, honeyed vocal style.
Released on her own label, Loud Magnolia Records, her second full length album, Southern Ambrosia conveys a fierce and witty perspective on southernisms, hard truths, heartbreak, and the eternal magical mystery and saving grace of melody, music and song.
Please Note: This event is 21 and over. Any Ticket holder unable to present valid identification indicating that they are at least 21 years of age will not be admitted to this event, and will not be eligible for a refund.